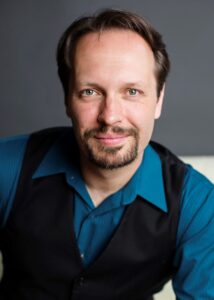 Catch Light Interactive, LLC announced today that highly acclaimed actor, Chris Bellinger, has agreed to join their latest project under development, Project 4: New Light City. Mr. Bellinger will feature prominently in the game, voicing the Narrator role for the studio's upcoming interactive thriller which is set to release on PC later this year.
"I am tremendously excited to be working on this project," Bellinger said about signing with Catch Light Interactive. "Jorgen and Paul have been great and we're just getting started. There is something thrilling about being a part of anything that is in development. Everyone is always at their most creative. That kind of environment and energy is unmatched."
Mr. Bellinger is an accomplished actor best known for his work on Service to Man (2016), Little Accidents (2014), and Virtuoso (2014). (https://www.imdb.com/name/nm6369099/) He has been married to Anna Bellinger since November 1, 2009. They have three children and live in the DC-Baltimore Metro area.
"I told Chris that when I wrote the narrator role, I had a very specific voice in mind," said writer and director, Paul Kardos. "It's a complex role, requiring someone with a lot of range. As soon as I heard his audition, I knew Chris was the one."
When not voice acting for video games, Mr. Bellinger works as a stage actor, director, voiceover artist, and as a speech and presentation coach. In addition to playing characters on the podcast, Alien Improv, Mr. Bellinger has held various roles at Townsquare Media, The University of Alabama, Children's Theatre of Charlotte, Voice of All, Horn in the West, and Laurens County Library System. Mr. Bellinger has also voiced several audiobooks, working with BMB Digital USA, BSG Sound Design, Beacon Audiobooks, and authors Matt Doerner, Jeffrey Clayhold, and Cooper, Marks, and Daniel, among others.
The studio believes his vast experience and abilities as a voice actor will further their goal of achieving a new standard in the indie game development industry.
"I'm super excited to have Chris on board," said Jorgen Tandberg, co-founder and COO of Catch Light Interactive. "To have an actor of his caliber bring life to the uncanny, often humorous journal entries Paul has written for the game will be amazing."
Project 4: New Light City is a non-linear, first person investigative thriller coming to the PC platform. The game will be an episodic release, with Chapter One slated for Q4 2021. For more information about the game, studio investor relations, and other breaking CLI news, visit www.catchlightinteractive.com. To inquire about Mr. Bellinger's professional services, contact him by visiting www.chris-bellinger.com.
______
Chris Bellinger is as an actor, director, voiceover artist, and speech and presentation coach in the DC-Baltimore Metro area. He has worked in 27 states and 2 Canadian provinces, and some day hopes to collect the whole set. Chris earned a BA in Production Studies in Performing Arts from Clemson University and an MFA in Acting from The University of Alabama. Learn more about Chris by visiting www.chris-bellinger.com. Follow Chris on Facebook: Chris Bellinger, Twitter: @bellinger_chris, and Instagram: @chrisbellingerofficial
Catch Light Interactive is an independent game development studio currently working furiously on the upcoming interactive thriller, Project 4: New Light City. For press inquiries, please contact us at www.catchlightinteractive.com/contact_us/