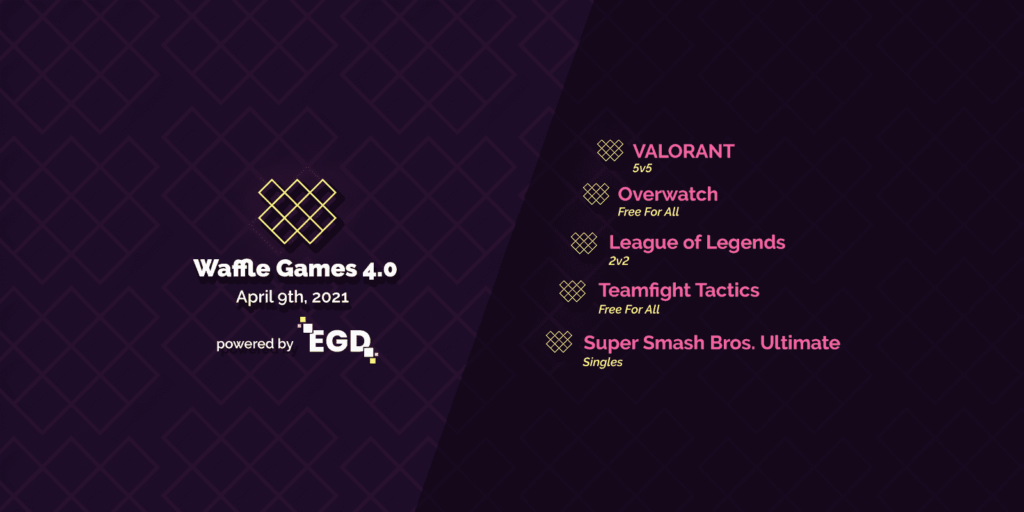 We're thrilled to announce that the EGD Collective, a non-profit organization whose mission is to create community, equity, and leaders of character through game development, has invited Catch Light Interactive to their fourth annual Waffle Games convention!
"EGD is a fantastic organization which helps university students learn more about the game development industry," said Catch Light Interactive COO Jorgen Tandberg.  "It's an honor for us to be invited to participate in the event.  We hope our story as an independent studio can be a positive influence for such an important community."
The Waffle Games convention will be held from 11am EDT on April 9 to 1am EDT on April 10, 2021. Throughout the event there will be several panel discussions from industry leaders, exhibitions from game development studios such as CLI, and tournaments and game sessions in titles such as Overwatch, League of Legends, and Valorant.
From the EGD Collective:  "Waffle Games 4.0 is here! Join us for 25 panels, 5 tournaments, casual gaming events, and a virtual expo hall of studios, student projects, and vendors! Learn from industry pros what it's really like to work in games, join speed networking, and get live answers with open Q&A in every panel! Drop in for one panel or stay for the entire day. Hear from people who have worked at or on:
Warhammer 40K | Rec Room | Elder Scrolls: Legends | Crash Bandicoot | Jax and Daxter | Halo | Fable | Age of Empires | Mass Effect | Call of Duty | Niantic | EA | Vicarious Visions | Bioware | Playmatics | Global Game Jam | Informa Tech | Discord | Zynga | Scholastic | Disney | ANDBOX (NYXL, NYSL) | Gen.G | MSI | iBUYPOWER | CORSAIR | Nerd Street Gamers | Activision Blizzard | eFuse | DotEsports | SK Gaming | NRG Esports | Turtle Beach | NVIDIA | HarperCollins | and more!

For more details about the convention, visit the official website:  https://www.egdcollective.org/wafflegames2021
To register for this free event, visit: https://hopin.com/events/waffle-games-2021